Magazine: More exhibitors and visitors at this year's Sirha trade show
International food and HoReCa trade show Sirha Budapest took place between 4 and 6 February 2020, and it was very successful from both professional and business perspectives.
The venue was the Hungexpo Budapest Congress and Exhibition Centre, and this year 12 percent more visitors came – approximately 24,000 – than in 2018.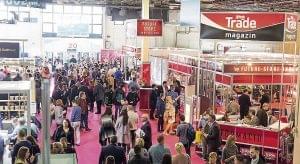 The significance of Sirha Budapest keeps growing: in 2020 more than 300 exhibitors showcased their products, services and innovations, and almost every third came from abroad. Róbert Zsigó, state secretary for food chain supervision told at the opening ceremony: the food industry is a sector of strategic importance for the government. The sector gets special funding and the main goal of this is to increase the proportion of food ingredients produced in Hungary domestically.
There were many professional programmes too at Sirha Budapest, e.g. Sirha Business Café – a place where business workshops were organised. Trade magazin built its Future Store stand, and there was also a business matchmaking event by Enterprise Europe Network and PRIMOM Foundation. Half-day rapid business meetings also proved to be very successful, as 128 participants that registered in advance took part in 196 meetings, from which 108 were international.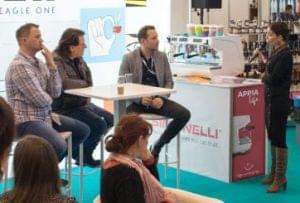 Wessling Hungary Kft. on the role of laboratory tests in making tasty, competitive and safe food products. Sirha Budapest's professional partner was METRO and its media partner was Trade magazin.

Conference on food safety
WESSLING Hungary Kft. organised a food safety conference at SIRHA. Dr Tamás János Szigeti, business development director of the company talked about reducing the danger of migration of materials from packaging to food. Pesticide analytics group leader Gabriella Kötelesné Dr Suszter spoke about the risks posed by pesticide use.
The topic of laboratory engineer Flóra Kelemen was how to prevent toxins contaminating food and animal feed. Head of the microbiology department Judit Gasparikné Dr Reichardt gave a presentation on 24-hour laboratory tests. Adrienn Micsinai, managing director or BIOMI Kft. talked about modern genomics methods in analysing full bacterial genomes.
Exhibitor Marketing Award for Future Store
This year was the first that the Hungarian Marketing Association (MMSZ) rewarded the exhibitors of the Sirha Budapest 2020 trade show with the Exhibitor Marketing Award. The jury decided that Trade magazin's Future Store stand was the most worthy of the prize.
President of the MMSZ jury Dr Gedeon Totth told: the award went to the right place, the Future Store absolutely deserved to win. Trade magazin received the award on 4 February and editor-in-chief Zsuzsanna Hermann said, they were proud of the victory. In 2022 they plan to welcome the nearly 1,000 trade visitors once again in the magazine's 650m² Future Store.
István Veres will be cooking in the European final of Bocuse d'Or
In the Hungarian final of the Bocuse d'Or chef competition – which was part of the programme of Sirha Budapest – teams had to cook two dishes in 5 hours and 35 minutes. This year's winner was István Veres, the chef of Babel Budapest, so he and his commis Bence Molnár will represent Hungary in the European final in Tallin in May.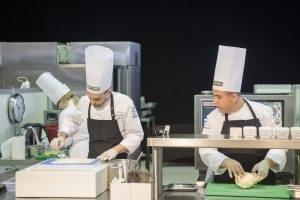 The Hunguest Hotel Aqua-Sol team (Roland Kelemen and Nándor Fenyő) finished second, and the Societé team (Zsolt Haraszti and Patrik Kocsis) came in third. After the competition, Tamás Széll told: great progress has been made in the history of the Hungarian Bocuse d'Or competition.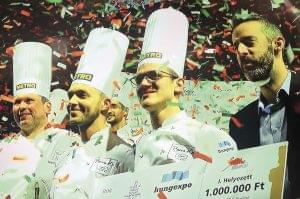 Public Sector Catering Competition 2019-2020
On 6 February the 12 finalist teams showed what they know in the Public Sector Catering Competition 2019-2020 – as part of the programme of the Sirha Budapest trade show. Hungast Pécs proved to be the best in the competition, the main theme of which was summer dishes in the spirit of traditions and renewal.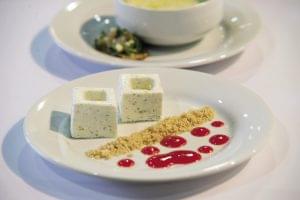 Teams had to cook a 3-course meal from net HUF 550/portion. The runner-up was Hungast Bakony Gaszt (Veszprém) and the bronze medal went to Eurest Győr. A conference on mass catering was also part of the programme. The National Food Chain Safety Office (NÉBIH) will publish a cookbook with the recipes of the finalists.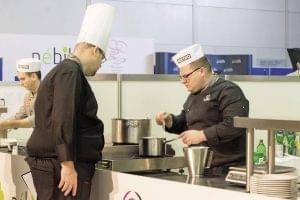 Chaine des Rôtisseurs young chef competition
On the first day of Sirha Budapest 2020 the 25th Chaine des Rôtisseurs young chef competition was organised. Chefs younger than 27 years were competing, using the contents of a surprise 'black box' to prepare a 3-course menu for 4 guests in just 3 hours.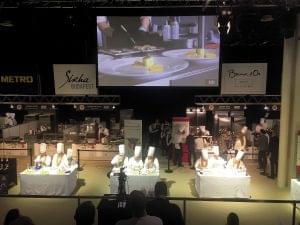 Levente Lendvai, the young chef of Arany Kaviár restaurant proved to be the best, so he will represent our country at the world championship in Paris this September. Mr Lendvai also went home with the special award for the best-spiced dish.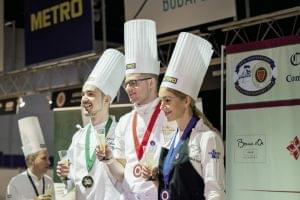 Conferences and presentations
Many conferences and roundtable discussions were also organised at Sirha Budapest. The Public Sector Catering Conference was very successful. Its main themes included sustainability and eco-friendly operations. The Hungarian Association of Packaging and Materials Handling (CSAOSZ) held a conference on new requirements and designs in food packaging.
Hospitality conference
On the first day of the Sirha trade fair the Guild of Hungarian Restaurateurs (MVI) organised a conference. Gábor Horváth, head of department at the National Tax and Customs Administration (NAV) talked about the most important things in issuing receipts. Gyula Mayer, president of the Sectoral Skills Council (ÁKT) of tourism and hospitality spoke about the imminent changes in trade education. Dr Tibor Nyári, deputy head of department at BKFH gave a presentation about the rules of working abroad. Judit Varga, director of the Responsible Gastro Hero Foundation talked about sustainability in the restaurant business.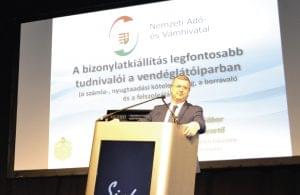 Special branch for more efficient HoReCa marketing
The HoReCa and Event branch of the Hungarian Marketing Association (MMSZ) has been established. It was announced at a press conference at the Sirha Budapest international food and HoReCa trade show: the new branch seeks to coordinate the marketing communication efforts of businesses in the hospitality, food and hotel segments.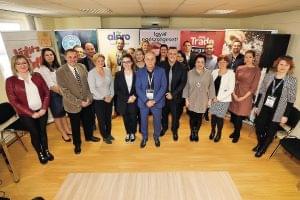 Head of MMSZ's HoReCa and Event branch Krisztina Bódi (managing director of Marketing Art Kft./www.menteshelyek.hu) told that members have committed themselves to shape the marketing communication of the segments together. In her view so far this field has received less attention than it deserves. Attila Kaszás, managing director of Viwa Product Európa Kft. was named president of the HoReCa and Event branch.
The founders: BIO-FUNGI Kft., Danone Magyarország Kft., GfK Hungária Kft., GL events HUNGARIA Zrt., Trade magazin, Hügli Food Kft., KNK PR&Média Kommunikációs Ügynökség Kft., KOTÁNYI HUNGÁRIA Kft., METSPA Kft., Marketing Art Kft., Pek-Snack Kft., Republic Group Kft., Univer-Product Zrt., VIWA Product Europa Kft., Water Film Group Kft.
ACO's success at the SIRHA trade show
ACO won the silver medal in the technology category of the SIRHA trade fair's Innovation Product Competition with its Lipusmart fat separator. Ádám Kóczián, the head of ACO Kereskedelmi Kft.'s food and kitchen category manager told: ACO has always been a leader in technological innovation. Lipusmart cleans fat-containing wastewater in professional kitchens, and uses an integrated wastewater pump to transmit the cleaned wastewater into the sewerage system. It is a hygienic process that is odour-free and automatic.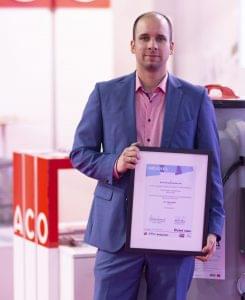 Confectionery contests and showcases
The Guild of Hungarian Confectioners organised the Pataki János memorial competition on the first day of the Sirha trade show, for both adults and young talents learning the trade. On the first day of the trade fair visitors had the opportunity to taste the winners of Ice Cream of the Year from the last few years, and award winning Hungarian ice creams from Gelato World Tour and Gelato Festival. Cake of Hungary 2020 entries were also juried at Sirha.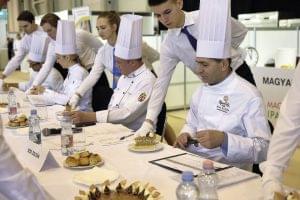 Cake of Hungary 2020 entries were publicly 'blind juried', in whole cake and slice formats. Many cakes featured poppy seed and almond, while from fruits cranberry and raspberry were popular. The following cakes qualified for this year's final:
Hunyadi's chronicle and Tétényi cranberry and almond – Ádám Sztaracsek (Jánoska Confectionery – Komárom), Mighty fig manna – Éva Heléna Marsa (Vanília & Gelarto – Nagykőrös), Poppy seed flower – Zita Szívós and István Poór (Major Confectionery – Budapest), Curiositas – Krisztián Füredi (Hisztéria Confectionery –Tápiószecső), Szeged Witch – László Gyuris and Ferenc Reisinger (A Cappella Confectionery – Szeged).
The best desserts
Every time the Sirha Budapest Dessert Competition seeks to offer up-and-coming confectioner talents the chance to prove their worth. This year competitors had to prepare a plate dessert, a fruit dessert and a decorative work from chocolate or sugar on-site. Annamária Fekete and Viktória Tóth, two young confectioners from executive chef Ákos Sárközi's Textura Restaurant won the competition, with an Indonesia-themed concept.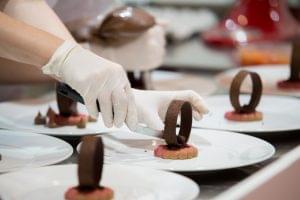 Networking
Sirha Budapest was an important networking forum too, where Enterprise Europe Network and PRIMOM Foundation organised an international businessmen's meeting. The half-day rapid business meetings for medium-sized enterprises also proved to be very successful, as 128 participants that registered in advance took part in 196 meetings, from which 108 were international.
Tags:
ACO Kereskedelmi Kft.
,
Bio-Fungi Kft.
,
Bocuse d'Or
,
Chaine des Rotisseurs
,
Danone Kft
,
Enterprise Europe Network
,
,
GfK Hungária Piackutató Kft.
,
GL events Hungaria Zrt.
,
Horeca
,
Hügli Food Kft.
,
HUNGEXPO Budapesti Vásárközpont
,
KNK PR&Média Kommunikációs Ügynökség Kft.
,
Kotányi Hungária Kft.
,
Közétkeztetési Szakácsverseny (KÖSZ)
,
Magyar Cukrász Iparosok Országos Ipartestülete
,
Magyar Marketing Szövetség
,
Magyar Vendéglátók Ipartestülete
,
Marketing Art Kft.
,
menteshelyek.hu
,
METRO Kereskedelmi Kft
,
METSPA
,
MVI
,
NAV
,
Pek-Snack Kft
,
PRIMOM Alapítvány
,
Republic Group Kft.
,
Sirha Budapest 2020
,
Sirha Budapest!
,
Trade magazin
,
Univer Product Zrt
,
vendéglátás
,
Viwa Product Europa
,
Water Film Group Kft.
,
Wessling Hungary
,
Zsigó Róbert
Related news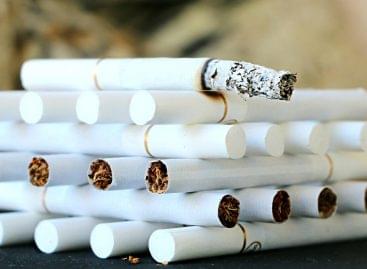 The tax inspectors found more than one million untaxed cigarettes,…
Read more >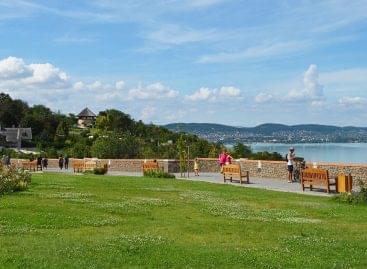 The Magyar Konyha magazine's Balaton Gastrokalauz (Gastronomy Guide) has been…
Read more >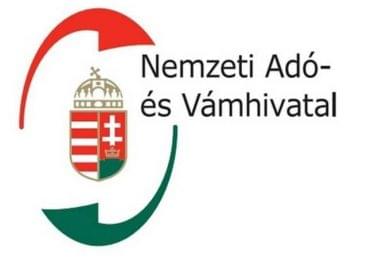 Sorry, this entry is only available in Hungarian.
Read more >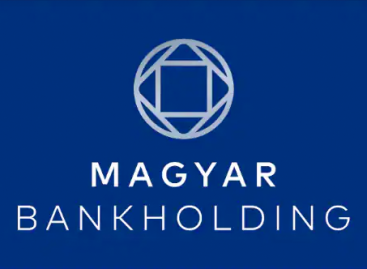 Exceeding expectations, industrial production increased by 9.4% in May, while…
Read more >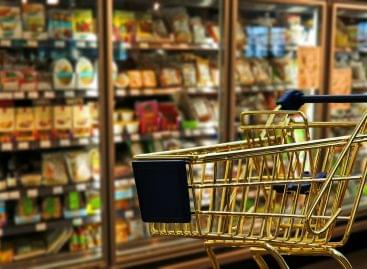 According to the raw data, the volume of retail trade…
Read more >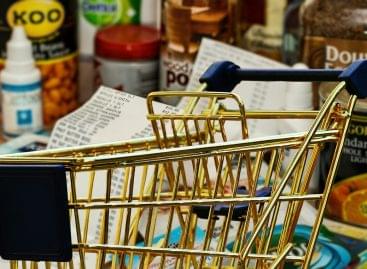 Household consumption may have peaked in May, the population has…
Read more >