Magazine: Employer branding at its best
In 2018 the best Hungarian brands have been rewarded with the MagyarBrands prize for the ninth time. From 2018 the MagyarBrand programme evaluates brands in four categories: business, consumer and employer brands and innovative companies can win. Only those brands are eligible for participation which were created in Hungary or Hungarians participated in establishing it. The brand must also be in Hungarian ownership or it must be 'produced' in Hungary.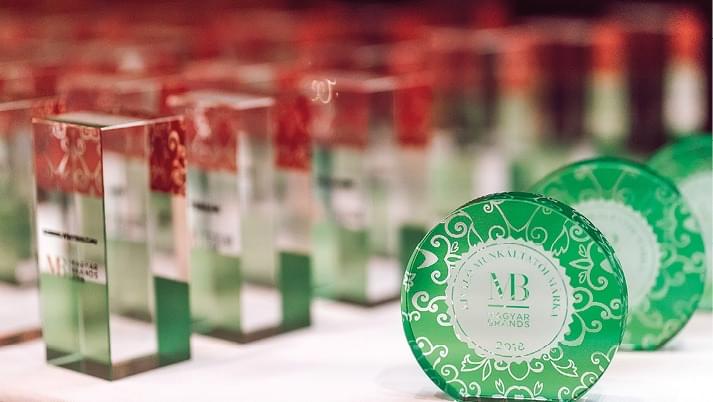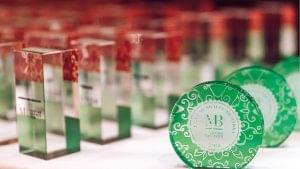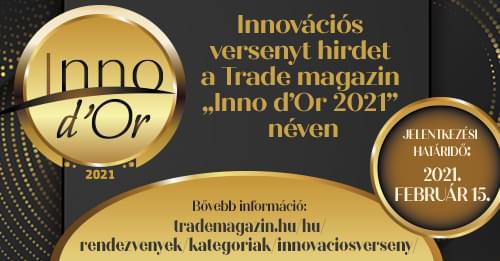 When points are given in the 'Excellent Business Brand' category, traditions and reliability are also taken into consideration. The excellence of Business Brands is proven by the fact that the average Bisnode rating of this year's winners was above 90 percent. In the case of 'Excellent Consumer Brands' the brand awareness level of MagyarBrands winning brands was above 75 percent in the Hungarian population.
In the 'Innovative Brand' category those brands are rewarded which think of innovation work not only as an R&D activity, but also as something creative done in the field of company structure or marketing and sales work. 'It is inevitable to be an Excellent Employer Brand today. Still, it isn't an easy task because this type of building work requires cooperation by the marketing, PR and HR fields.' – said Géza László, programme director of MagyarBrands.
Only those companies are eligible for the Excellent Employer Brand prize which also win in one of the basic MagyarBrands categories. When selecting the best employer brands, the programme evaluates the number of workers, changes in salaries and the level of fluctuation in the last few years. MagyarBrands winning brands can participate in training programmes, conferences and business breakfasts, where the latest trade issues are discussed and the best experts share their knowledge with those present. This year's MagyarBrands award ceremony was preceded by the 'Brand building in the labour market' conference. At the end of the conference there was a roundtable discussion with the participation of four Excellent Employer Brand winners.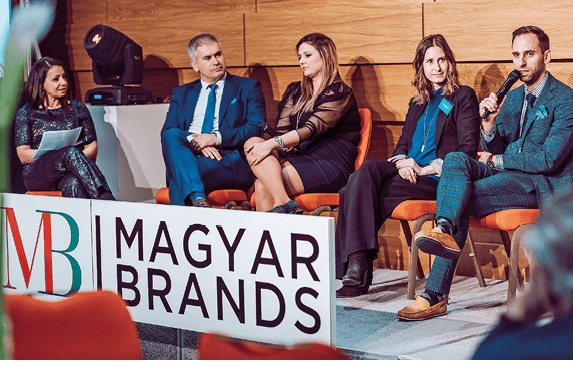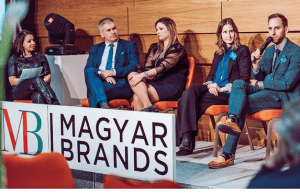 A roundtable discussion by Excellent Employer Brand winners
(from left to right:) Zita Kulcsár, member of the MagyarBrands jury (moderator),
László Boros (Bükfürdő Gyógy- és Élménycentrum), Csilla Fülöp (Agrosprint),
Eszter Baranyai (KöBE), László Gyimesi (Mystic Nails)
Eszter Baranyai, communications manager of KöBE introduced the fitness centre they had built for workers. The idea came from the company's employees, and the fitness centre has become a real community space where workers like to meet. Csilla Fülöp, innovation and PR manager of Agrosprint spoke about the success of their gift programme, within the framework of which the workers who didn't miss a working day for three months and always turned up on time was rewarded with a Bluetooth speaker, a smart watch and a smartphone.
László Boros, CEO of the Bük Health and Experience Centre believes that an employer brand can only be successful if workers believe that their opinion matters. The management of the brand proves this attitude by having breakfast with the workers of each department twice a year, when ideas are shared and discussed. László Gyimesi, managing director of Mystic Nails talked about the coupon book they had introduced for workers, which contains coupons such as 'Come in one hour later, sleep one hour more' and 'Go and see a movie – with one of your colleagues'.
The examples presented above show that brand building requires internal motivation and efforts. Zita Kulcsár, member of the MagyarBrands jury and co-founder of Worki opines: all of the rewarded corporate brands are characterised by a high level of managerial responsibility and a humane attitude.

Exceptional Hungarian brands should be rewarded regularly
If a brand wants to be excellent in the long run, it must meet three criteria: the manufacturer's philosophy should be manifested in every element of the product, the brand can only function if the product is of good quality, and the market also has an impact on the product and the brand. Since there is growing demand for Hungarian products, a much bigger volume of these is made than before, thanks to which revenues have increased and companies can invest more in innovation and user experience.

Emotional ties between brand and consumer
There is increasing demand for Hungarian brands that are truly innovative, and more and more shoppers are buying premium Hungarian brands. The nationality of a given product can be a value in itself if we take into consideration the 'component' that makes a product a strong brand: the emotional ties between brand and consumer. In the era of global supply chains and unlimited reproduction capacity, greater value is attached to what is 'local', 'national' and 'familiar'. If these product features manifest as consumer benefits, what we get is a strong Hungarian brand. This also means that it isn't enough for a product to be Hungarian, this fact also needs to be told to shoppers in the form of a story.

Reliability above all
MagyarBrands is a system that rewards high-quality Hungarian brands on the basis of professional criteria. When evaluating, for me the most important thing is the long-term reliability of the brand, so I focus the most on reputation and popularity. The prize helps up-and-coming brands by giving them positive feedback on what they are doing. //
A milestone
A brand is what consumers feel about the given product or service. A good brand is an emotional, functional and rational entity as well. MagyarBrands winners in 2018 have minimum one thing in common: they reached a milestone in their development in the domestic market, they got feedback with this prize that they are on the right path. My experience is that the quality of Hungarian products is improving. However, when it comes to communication there are shortcomings. I hardly come across campaigns that are really creative and reach a lot of people. //
Value in brand building
The MagyarBrands programme gives domestic brands the chance to be discriminated positively. As a PR expert I am primarily evaluating brands based on how consciously and well they are communicating to the consumer, and whether they are keeping their promises or not. Hungarian brands can become a part of our culture, serving as a common reference point. //
Thinking in the long term
The best brands in the world aren't only well-known and relevant, but also have important social value. They are capable of making an impact on a part of the society. Some of this year's MagyarBrands winners are working on becoming a brand like this, always thinking in the long term. When jurying, this identity dimension is the factor that can help evaluators with a bit of marketing knowledge in deciding about the strength of a brand. //
My boss is my chauffeur
Successful employer branding work is becoming more and more important all over the world. For the first time the Excellent Employer Brand awards were also presented to the winners at the MagyarBrands award ceremony this March. One of the most popular winner ideas was 'My boss is my chauffeur', a programme in which managers drive employees to work from time to time…It also tells a lot about the award scheme that the brand awareness level of MagyarBrands winning brands was above 75 percent in the Hungarian population. //
More brand builders, fewer stowaways
A good brand is basically a good story. A story with new episodes that captures the hearts of buyers. I see a positive trend: there are more and more conscious brand builders and fewer who want to 'ride free'. I noticed that there are more family-owned businesses than before among the entries, and I am very happy to see this. Consciousness, constant development, value creation, brand awareness and recognition – these things don't just come about. In this competition brand features such as responsibility, the importance of the community, social sensitiveness and openness are becoming increasingly valuable. //
Competition requires quality improvement from brands
A brand is about the manufacturer, the product, the market and about us – the people who are using the given brand. When we purchase something, we don't only buy functional characteristics, but also something more: faith, self-respect and the many advantages that we call brand equity. As for the evaluation process, for me brand building is the most difficult to assess, while the easiest is probably answering the questions related to brand reputation. Market competition entails an improvement in product quality, irrespective of the emotions shoppers attach to certain products. Among the winners we find several products that would perform well in foreign markets too. //
Subjective but credible evaluation
A good brand is about the product, the manufacturer, the market and its potential user. Evaluating the entries is a subjective process, but every jury member has different priorities. For instance I concentrate on usability and the potential for making further progress. My view is that if a foreign product is better than a similar Hungarian product, our task isn't to prefer the Hungarian one anyway, but to expand the competition in order to assist the Hungarian company in catching up with or overtaking its foreign competitor. 
The full list of the winners of 2018 MagyarBrands program can be found at the following link: http://magyarbrands.hu/magyarbrands-program/magyarbrands-dijazott-markak/
Tags:
Agrosprint
,
Budapesti Gazdasági Egyetem
,
Budapesti Metropolitan Egyetem
,
Bükfürdő Élmény-és Gyógyfürdő
,
Értékrend Consulting
,
FMCG
,
GKI
,
Hinora Group
,
Kiváló Munkáltatói Márka
,
KÖBE
,
KPMG
,
Magyar Márkaszövetség
,
Magyar PR Szövetség
,
MagyarBrands
,
Mystic Nails
,
RedBull
,
Republic Group
,
Trade magazin
Related news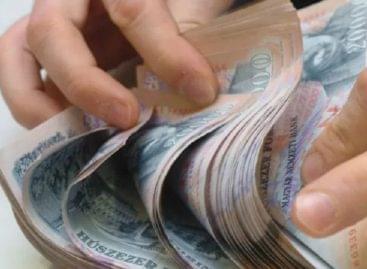 According to NAV data, in 2019 the average monthly salary…
Read more >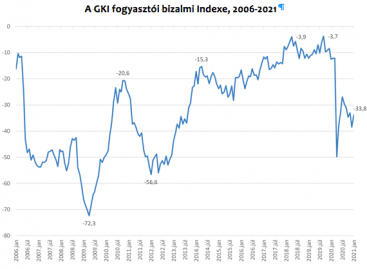 GKI's economic sentiment index rose sharply in December. It almost…
Read more >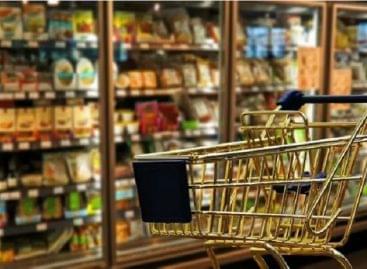 Based on favorable third-quarter data, the decline in the fourth…
Read more >