Will there be more or fewer presents under the Christmas tree?


In August Kantar Hoffmann asked 18-64 year old Hungarians about how much they plan to spend on gifts. Last year the average shopper spent HUF 50,000 on Christmas gifts. 25-34 year old consumers spent HUF 57,000, while consumers with a college or university degree purchased presents for HUF 60,000. 55-64 year old respondents bought presents from a HUF 43,000 budget. If we take a closer look at various regions, we can see that people living in North Hungary spent HUF 39,000 on gifts. The study also asked respondents whether they think the sum they spent is too big or too little. 76 percent of Christmas gift buying Hungarians opined that they had spent just the right amount. About 13 percent said they spent more than they should have, but 6 percent thought they had spent less than could have afforded. It is noteworthy that men more frequently felt (8 percent) that 'we spent less than we could have', while 17 percent of women had the feeling that 'we spent too much'.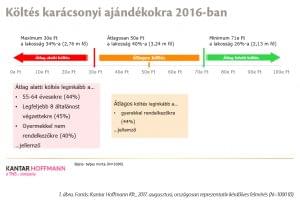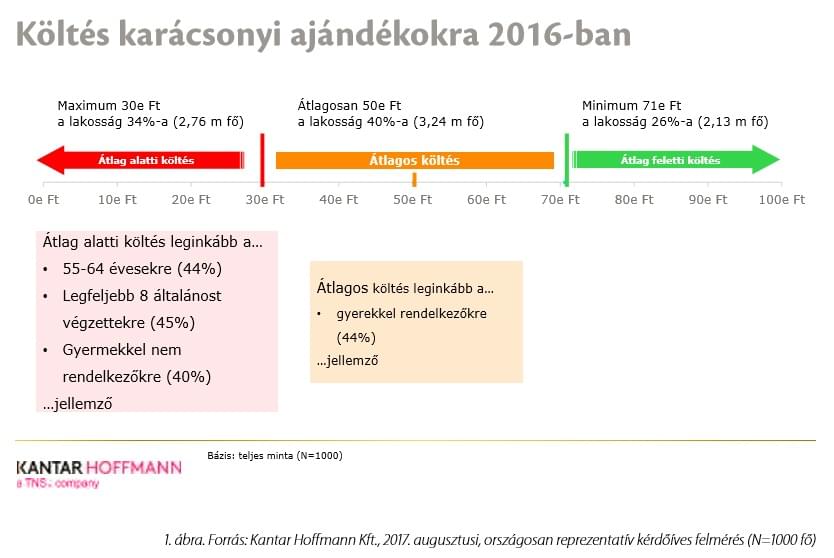 In the Christmas period not only gifts are purchased as money is spent on other things as well, such as food, drinks and entertainment. At the end of last year (Christmas, New Year's Eve) the average consumer spent HUF 47,000 on food, drinks and having fun. 30 percent of respondents belong to the group of average spenders in this respect, having spent HUF 29,000-65,000. 34 percent of the survey's participants said they had purchased more food or drinks than they could eat or drink; however, from this proportion 31 percent could consume the leftover food and drinks later. Nearly 60 percent were of the opinion that they had purchased just the right quantity of food and drinks.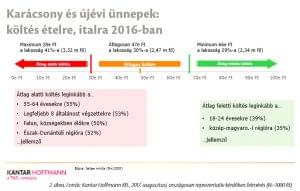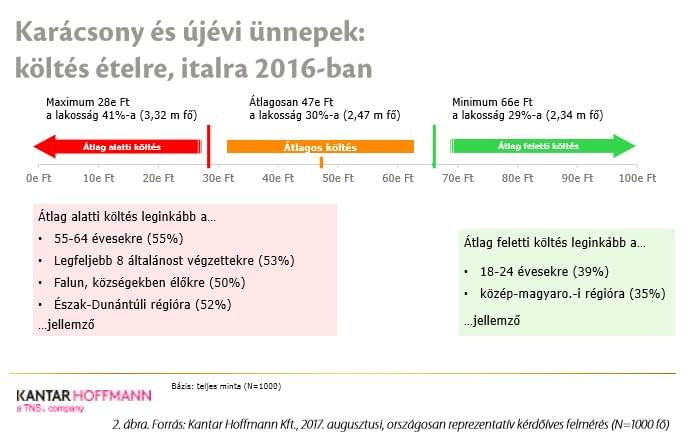 What about consumers' plans for this Christmas? 68 percent of respondents plan to spend the same amount on gifts as last year. 16 percent will work with a smaller Christmas gift budget. 8 percent answered that they would spend more than last year. Those who will spend more won't do so because they got richer, but because this year they need to give presents to more people or because last year they had money for fewer gifts than they wanted.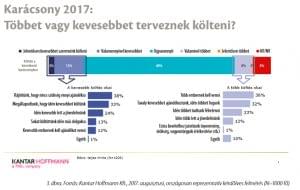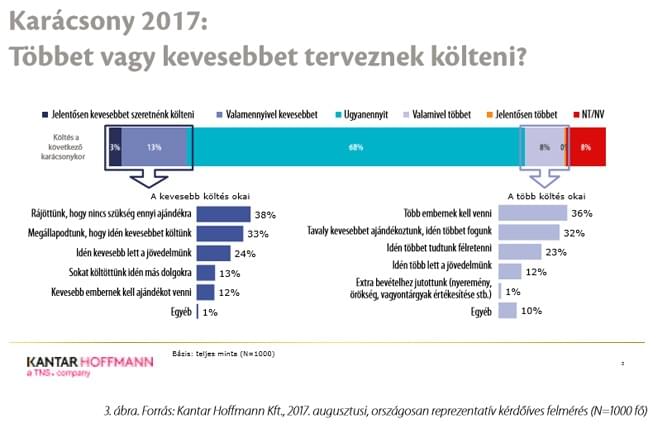 Last Christmas 53 percent of Hungarians purchased clothes as a Christmas gift. 41 percent also put cosmetics products in their baskets. 37 percent bought toys and games, 27 percent went home with books, CDs and DVDs, 28 percent purchased food and 27 percent bought consumer electronics. The biggest buyers of clothes were 18-24 year old consumers (65 percent) and people living in East Hungary (63 percent). Consumers in the 35-44 age group were the biggest buyers of toys and games (48 percent). As for gift buying plans in 2017, they are rather different from last year. 35 percent intend to give consumers electronics as a present, 32 percent's gift idea is clothes, 23 percent will purchase cosmetics, 16 percent will opt for food and drinks, 14 percent will buy toys and 12 percent will spend money on books/CDs/DVDs. Consumer electronics will be purchased above the average rate by consumers in the 18-24 age group (42 percent), shoppers living at county seats (44 percent) and in East Hungary (42 percent).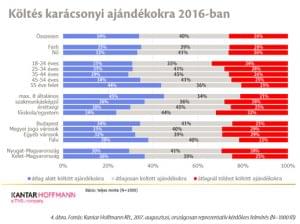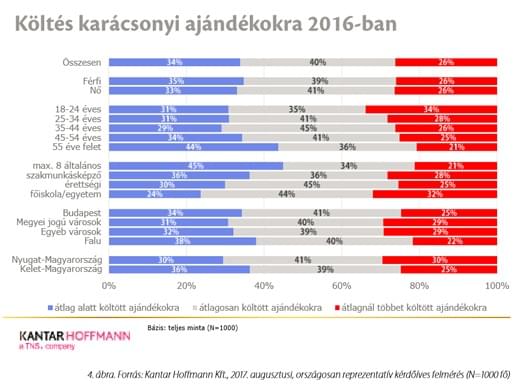 Another important finding of the study: while last year only 21 percent of purchases were made online, this Christmas shoppers plan to buy 33 percent of gifts on the internet. 50 percent of 18-24 year old Hungarians will buy presents online – the same proportion in the 55-64 age group is 14 percent. The study also found that the higher one's education level is, the more willing they are to purchase gifts on the internet. //
Better Juice, Ltd, the first food-tech start-up to develop technology…
Read more >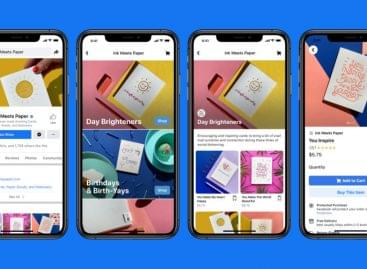 The US social media giant hopes to increase its market…
Read more >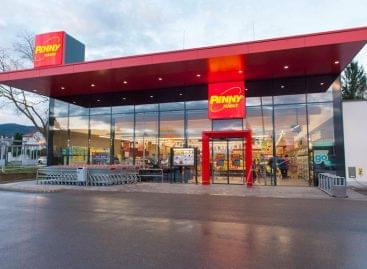 Penny, Rewe's discount banner, has rolled out its Scan and…
Read more >