Magazine: Business Days 2017: focusing on the channels (Part 1)
More than 670 viewers were enjoying the programmes broadcasted by Trade TV for four days from Hotel Pelion's Pellywood Studios in Tapolca. At our magazine's Business Days conference experts were discussing the latest trends, results and prospects of the FMCG sector.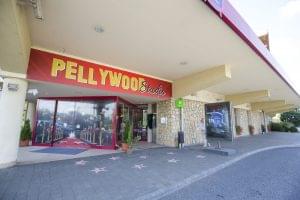 On Tuesday, the first day of the conference, Chain Bridge Club member Dr Béla Fischer was the moderator. The first speaker was Dr Zsolt Feldman, deputy state secretary responsible for agriculture at the Ministry of Agriculture. He told that in 2017 the engine of sales growth in the food industry was export sales: in January-July 2017 total sales in the industry expanded by 3.6 percent: domestic sales were up 2.8 percent and direct export grew by 4.7 percent. He also talked about the ministry's 20-point action plan to improve the situation of Hungarian products. Dr Gábor Karsai, deputy CEO of GKI Economic Research analysed 2017 and told: if Hungary won't be able to become a so-called core country of the European Union and won't take the steps which are necessary for this, the country's economy will suffer after 2020. Tamás Éder, president of the Federation of Hungarian Food Industries called attention to high, often unrealistic consumer expectations about the food industry. People want organic, healthy and fresh products with a long shelf life, which are made ethically and environmentally and are cheap as well. While food companies are spending billions on brand building, the food industry's image problems erode the results of this marketing work.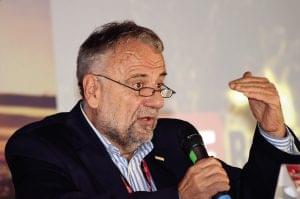 Dr. Béla Fischer
member
Lánchíd Club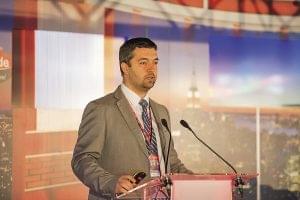 Dr. Zsolt Feldman
deputy state secretary responsible for agriculture
Ministry of Agriculture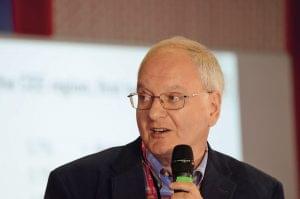 Dr. Gábor Karsai
deputy CEO
GKI Economic Research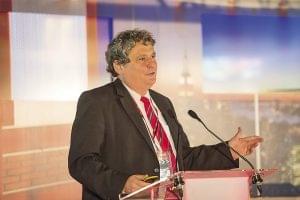 Tamás Éder
president
Federation of Hungarian Food Industries
Matthias Krön, the president of Donau Soja Association followed next. He introduced the great opportunities that lie in soy production. The association's goal is promoting European soy production and the making of high quality, GMO-free food products in Europe. Zoltán Házi, member of the presidency of the National Trade Association gave a presentation about the major changes that occurred in retail trade in recent years. There is a concentration process going on in retail. Problems in the sector include the workforce shortage and the lack of skilled workers. Dr Ákos Kozák, managing director of GfK analysed Hungarian retail in the light of international trends. He pointed out that multinational companies aren't thinking in terms of regional markets and supply chains any more. The world is working like a global ecosystem in which everything is connected. In the next 10 years 2 million jobs will transform in Hungary. Kateryna Edelshtein, managing director of Nielsen took the floor next. She spoke about the new age in everyday shopping as regards petrol station shops and supermarkets. With salaries having increased, Hungarian consumers are spending much more in shops. Today 7 from 10 consumers have money that they can spend freely. She stressed the fact that for the first time since 2009 sales of hypermarkets had increased too.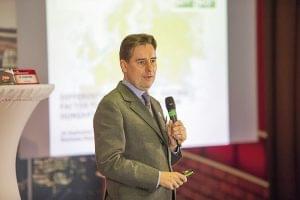 Matthias Krön
president
Donau Soja Association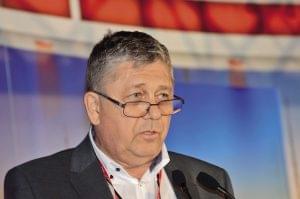 Zoltán Házi
member of presidency
National Trade Association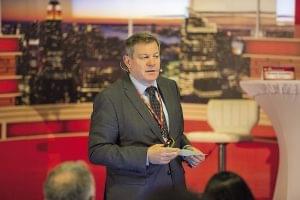 Dr. Ákos Kozák
managing director
GfK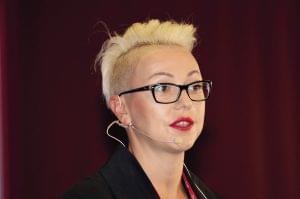 Kateryna Edelshtein
managing director
Nielsen
In the afternoon the conference's programme continued with a talk show, which was moderated by László Benedek, commercial and marketing director of Visonta Projekt; this time discussion focused on suppliers. Linda Szommerné Egyed, managing director of FINO-FOOD gave a presentation about the importance of harmonising traditions with innovation in the dairy sector. She told that the company's products are condensed using special technology, and their milks and flavoured milks contain 30 percent extra protein. Tibor Bagdi, managing director of Foodbox introduced the company, which was established in 2011 with the merger of a vending machine distributor and a ready meal producer. First they wanted to sell meals from vending machines in office buildings, but later they started using new technology – this keeps their products fresh for 30-35 days – and products are now available on the shelves of grocery stores.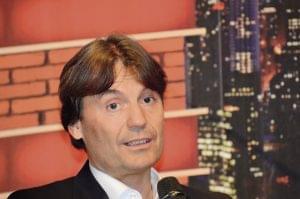 László Benedek
commercial and marketing director
Visonta Projekt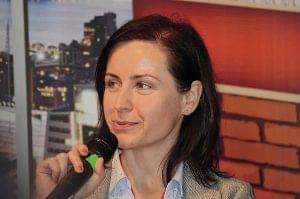 Linda Szommerné Egyed
managing director
FINO-FOOD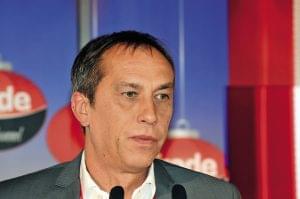 Tibor Bagdi
managing director
Foodbox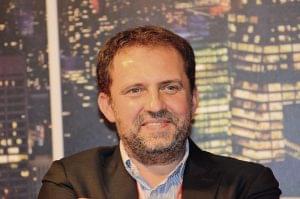 Tamás Ács
director of commerce
Unilever Magyarország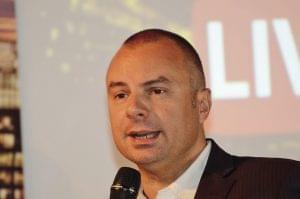 Attila Sófalvi
market director
Mars Magyarország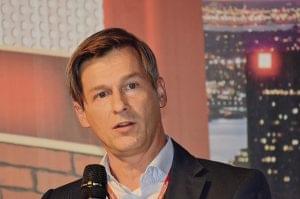 Zoltán Venter
managing director
SCA Hygiene Products
After the presentation there was a roundtable discussion about how suppliers can satisfy the special needs of supermarkets and petrol stations. Tamás Ács, Unilever Magyarország's director of commerce told that the most important thing is keeping shopper needs in mind. Attila Sófalvi, market director of Mars Magyarország added that his company takes petrol station shops just as seriously as hyper- or supermarkets. Their sales keep growing in petrol station shops. Zoltán Venter, managing director of SCA Hygiene Products called attention to the fact that today it takes 3-5 minutes to fill a car with petrol, but in the future this time will grow to 15 minutes with the spreading of electric car use. Shoppers can use the extra time spent at petrol stations for doing the daily shopping.
János Mezei
director of commerce
CO-OP Star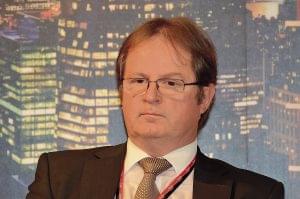 Tibor Balogh
managing director
OMV Hungária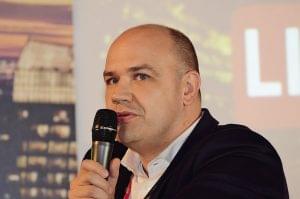 Péter Gyúrós
head of shop business unit
SHELL Hungary
When the coffee break finished another debate started in the Trade TV studio, with the moderation of GfK managing director Dr Ákos Kozák, who told that supermarkets' share is 18 percent in the Hungarian FMCG market. The average basket size grew by 5.3 percent but buying frequency dropped 1.2 percent in the first half of the year. A presentation followed by János Mezei, CO-OP Star's director of commerce. The topic was innovating efficiently in the supermarket channel. He introduced the structure and working of the CO-OP franchise system. He opined that there are two big questions that supermarkets need to answer: Which will be the better location for them, the city centre or the edge of town? How to react to the conquest of discounters? In connection with this Tibor Balogh, OMV Hungária's managing director told that they don't only operate traditional petrol station shops anymore, they also have 67 Spar Express shops. Péter Gyúrós, the head of Shell's shop business unit in Central and Eastern Europe revealed that SHELL's strategy is to generate half of their retail sales revenue not from motor fuel sales by 2025.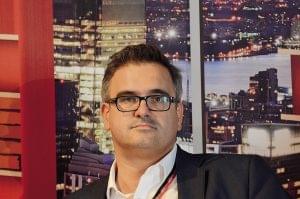 Dr. András Orosz
head of retail
MOL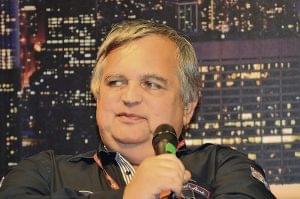 Zsolt Gyelán
deputy president
CBA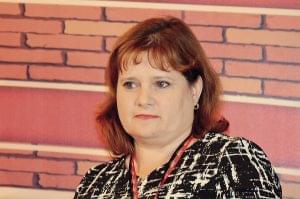 Gabriella Heiszler
managing director
SPAR Magyarország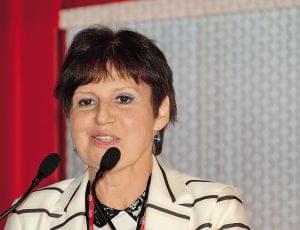 Klára Tihanyi
exhibition director
Hungexpo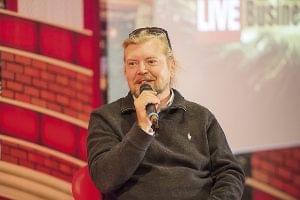 Károly Gerendai
founder
Sziget Festival
Dr András Orosz, MOL's head of retail explained that petrol stations are much more local than supermarkets and their role is different, too. According to Zsolt Gyelán, deputy president of CBA and managing director of Partner Log, only professional players have a place in the market. CBA has decided to give up certain regions so that they can operate better in those places where they are strong. Gabriella Heiszler, managing director of SPAR Magyarország added that they focus on supermarkets because their experience is that the smaller the floor space is, the faster the store is developing. Another presentation followed after this: Klára Tihanyi, exhibition director of Hungexpo spoke about the Sirha Budapest trade fair. On 7-9 February 2018 the event – one of the biggest food and Horeca trade shows in Central and Eastern Europe – will already be held in two pavilions. There will also be a Product Innovation Competition in the programme, organised in cooperation with Trade magazin. Last time visitors came to the trade exhibition from 34 countries, mainly from Central and Eastern Europe. Work ended in the evening with a talk show, where the host Szilvia Krizsó interviewed Károly Gerendai, the founder of Sziget Festival. He revealed that the he sold 70 percent of the company because they had found a partner that let them keep the management rights.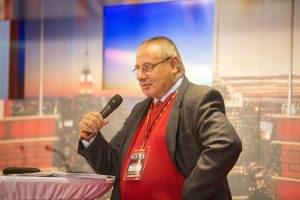 Dr. András Köves
business development and marketing director
NT Kunsági Éden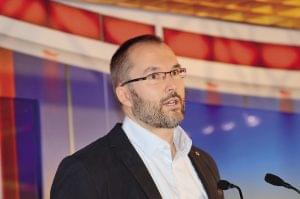 Gergő Soltész
member of board directors
FHB Bank
Gergely Papp
deputy director general
Hungarian Chamber of Agriculture (NAK)
On Wednesday the topic of discussion was Hungarian-owned retail chains, franchise networks, wholesalers and national tobacco shops. In the morning work started in the macroeconomy section and the moderator was Dr András Köves, business development and marketing director of NT Kunsági Éden Kft. The first speaker was Gergő Soltész, a member of FHB Bank's board of directors. He told that the world's economy is in a good shape and Hungary is doing well too: the economy is growing rapidly, the forint is stable, interest rates are low, the budget deficit is alright, the level of employment and consumption are growing. Mr Soltész warned that the next financial shock can be triggered by many factors. Gergely Papp, deputy director general of the Hungarian Chamber of Agriculture (NAK) spoke about the three key roles of the chamber: getting and utilising the funding that is available for the sector, making regulation recommendations to legislators and coordinating the selling of land. NAK is also busy trying to convince the government to cut the VAT on as many food products as possible.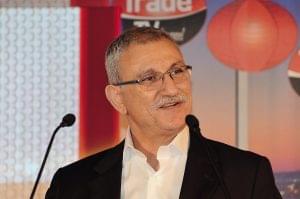 Dr Michalis Christou
CEO (Europe)
Retail Zoom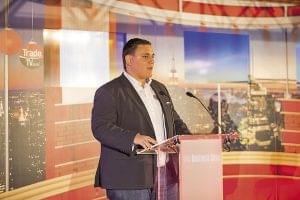 Andreas Christou
commercial and business development director
Retail Zoom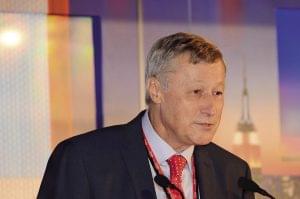 László Murányi
former president
Hungarian Franchise Association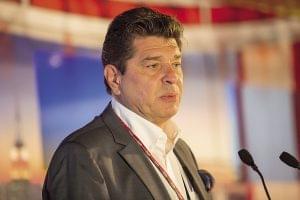 Zoltán Tóth
owner and managing director
trafik.hu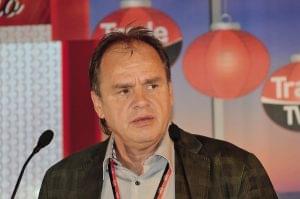 Dr Attila Forgács
Gastro-psychologist
Dr Michalis Christou, the CEO Europe of Retail Zoom gave a presentation about the new dynamics in retail that result from the digital revolution. He told that companies such as Alibaba, Airbnb or Uber analyse Big Data to come up with digital innovations that offer consumers more efficient solutions. Andreas Christou, commercial and business development director of Retail Zoom used case studies from Hungary and abroad to introduce how data from shopper transactions can be utilised. László Murányi, former president of the Hungarian Franchise Association gave an insight into franchises in Hungary: there are 360 of them (76 are international) and their contribution to the country's GDP is 5-6 percent. Zoltán Tóth, owner and managing director of trafik.hu summarised the first 4 years of the national tobacco shop system. He revealed that the top 20 brands realise about 84 percent of sales. He added that some of the traditional products have stepped on a negative path. Gastro-psychologist Dr Attila Forgács shed light on various food preferences and phobias. Ha told how consumers suffering from orthorexia nervosa (being dependent on healthy food) are basically forming sects online, blaming the food industry for their troubles.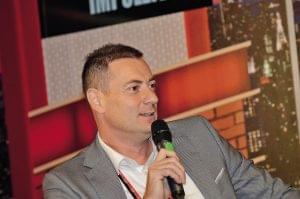 László Szilágyi
business coach
ActionCoach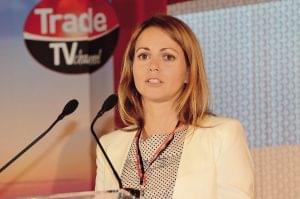 Eszter Benedek
managing director
Hungarian Product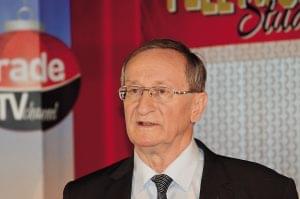 István Erdélyi
president-CEO
Gallicoop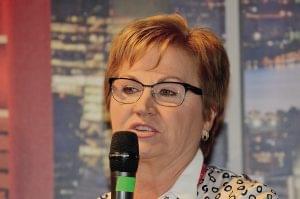 Olga Pavlova
owner and managing director
Detki Keksz
Krisztina Bódi
marketing and PR director
Kométa 99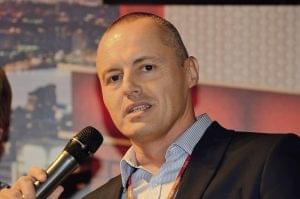 Dr János Rákóczi
commercial director
Eisberg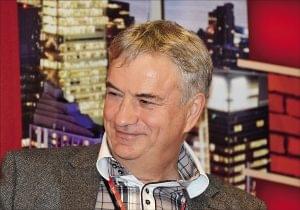 Zoltán Soós
owner and managing director
Soós Tészta
The moderator of the first afternoon section was László Szilágyi, the business coach of ActionCoach. Eszter Benedek, managing director of Hungarian Product Nonprofit Kft. was the first speaker. She shared the results of a recent survey, according to which the majority of Hungarian consumers prefer Hungarian groceries to imported ones. 94 percent of them know the Hungarian Product trademark and 71 percent of those who check the origin of a product trust those groceries more which bear the Hungarian Product marking. István Erdélyi, president-CEO of Gallicoop informed the audience that from the company's HUF 33.5-billion annual sales the share of export is 40 percent. He believes that those who don't innovate can't stay in the competition. In the discussion phase Olga Pavlova, owner and managing director of Detki Keksz mentioned that few people believed in the Hungarian Product programme when it had been launched 13 years before, but today more than 150 manufacturers are using the trademark. Krisztina Bódi, marketing and PR director of Kométa 99 Zrt. stressed: they would like to tell consumers that Kométa uses Hungarian ingredients and workforce to make products for Hungarian consumers. Dr János Rákóczi, commercial director of Eisberg called attention to the fact that promoting domestic products had become important in practically every country. Zoltán Soós, owner and managing director of Soós Tészta explained that the Hungarian Product logo can help them communicate to consumers that they are a 100-percent Hungarian company, manufacturing products from Hungarian ingredients.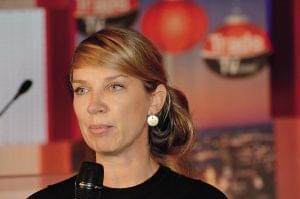 Judit Szalókyné Tóth
member
Chain Bridge Club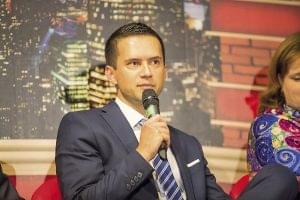 Zoltán Noszlopy
purchasing director
CBA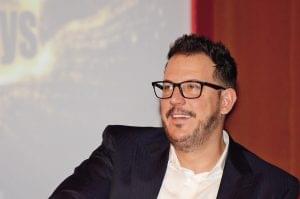 Attila Szabó
purchasing director
CO-OP Hungary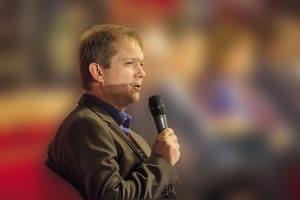 Tamás Deák
deputy CEO of commerce
Chefmarket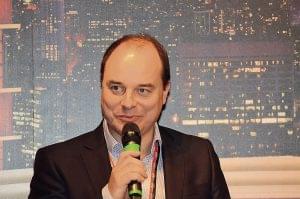 Imre Horváth
CEO
METRO Hungary
The programme continued in the afternoon with the roundtable discussion for retailers. Chain Bridge Club member Judit Szalókyné Tóth was the moderator and she started out with analysing the convenience store channel, using international examples. Customers spend 4 minutes in convenience stores on average and 33 percent of them belong to the Millennial generation; for them the most important store choice factor is how close the shop is. Zoltán Noszlopy, purchasing director of CBA told that manufacturers had noticed the growing demand for healthy foods, indicating the 'free-from' characteristic of products more often. Attila Szabó, purchasing director of CO-OP Hungary added that they are open to adding more healthy foods to their assortment. Tamás Deák, Chefmarket's deputy CEO of commerce opined that from the new trends the most important is the 'free from everything' trend. Gabriella Heiszler, managing director of SPAR Hungary informed that they already have a strategy for popularising healthy foods in their shops in 2018. Imre Horváth, the CEO of METRO Hungary welcomed the improvement in consumers' eating habits, and he talked about the growing number of ready-to-cook products they are providing Horeca partners with.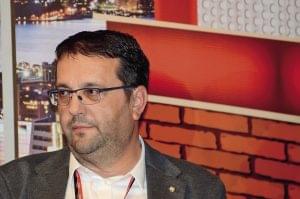 András Kulcsár
managing director
ND Cluster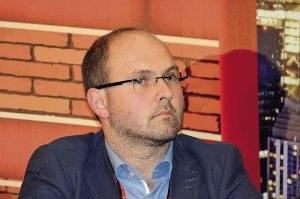 István N. Szabó
managing director
Z+D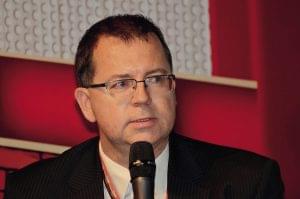 László Szili
commercial director
Reál Hungária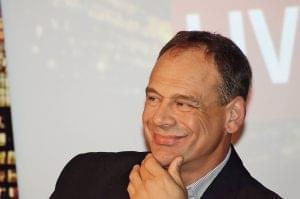 József Rácz
franchise owner
Vitamin Szalon
Representing the tobacco shop channel, ND Cluster's managing director András Kulcsár told: the Hungarian Association of Tobacco Retailers represents the interests of tobacco shop owners with great success at both the authorities and among legislators. Z+D's managing director István N. Szabó revealed that non-tobacco products are more and more important in the sales of tobacco shops – from beer to iced tea. When discussing the topic of franchise networks, Reál Hungária's commercial director László Szili spoke about their own system, which gives stores great freedom, e.g. personalised supplier contracts at regional level. József Rácz, franchise owner of VitaminSzalon and managing director of Prémiumkert introduced the technological solutions that they are using, from electronic shelf labels to smart scales connected to touchscreen cash registers.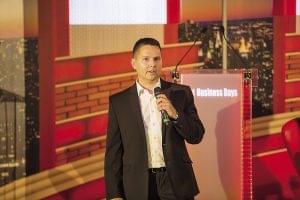 Tamás Nyíri
purchasing director
Hell Energy Magyarország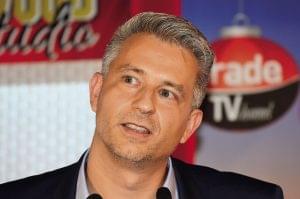 Zoltán Kádár
Loyalty&More
There were three presentations as well: DigInStore's Zoltán Tóth gave a presentation about the launch of Trafik TV, a digital service that increases efficiency, informing and training tobacco shop staff, and at the same time communicating to customers in tobacco shops. Hell and SPAR's joint presentation introduced how manufacturers and suppliers can increase sales together. Tamás Nyíri, purchasing director of Hell Energy Magyarország Kft. talked about their progressive investments, constant innovation work, 360-degree marketing support and their products being available all the time. Gabriella Heiszler spoke about the Energy Zones that they had established in three new INTERSPAR stores. In the third presentation Zoltán Kádár from Loyalty&More introduced a set of services that can be used to increase sales, to make customers more loyal and to reinforce brands.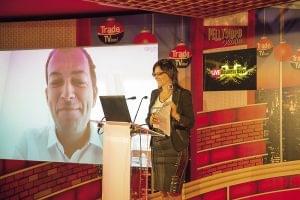 Szilvia Krizsó communication specialist and
Zoltán Peresztegi, XOXO Group
Wednesday ended with the MasterCard – Retailer of the Year in 2017 award ceremony, followed by a talk show hosted by communication specialist Szilvia Krizsó. Ms Krizsó talked to digital innovation consultant Zoltán Peresztegi live via Skype. Mr Peresztegi represents the XOXO Group in Los Angeles. He spoke in detail about new-type brands are replacing old ones in the market, thanks to the fact that they are incorporating information acquired from users. In his view Amazon, Apple, Google and Facebook are such brands and they will dominate in the years to come. //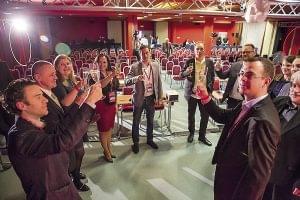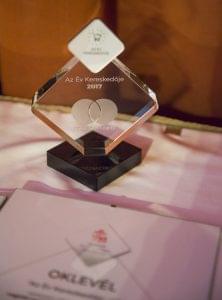 Related news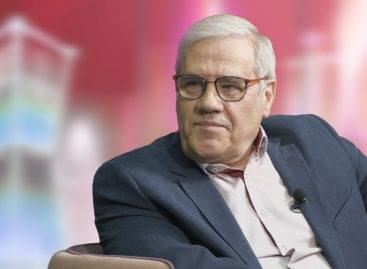 To address young people with classical music is quite a…
Read more >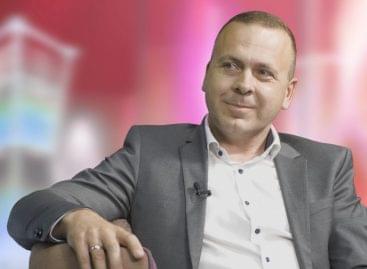 How big is the carbon footprint of a bank? And…
Read more >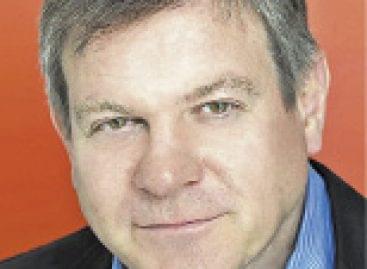 Equilibrium Institute has prepared its Megatrend Index for the second…
Read more >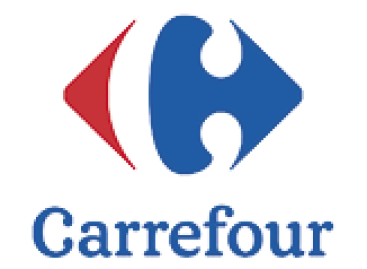 French retailer Carrefour is celebrating the 30th anniversary of its…
Read more >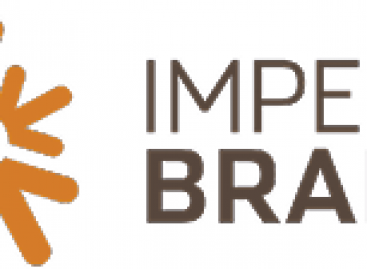 Imperial Brands – formerly known as Imperial Tobacco Group –…
Read more >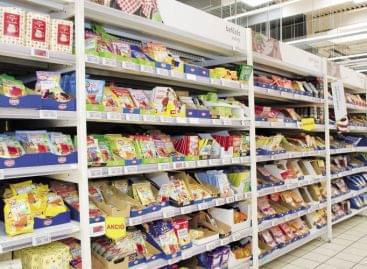 In early May it seemed that this year's fruit harvest…
Read more >