The world of augmented reality
2017 is likely to be an interesting year for both retail trade and IT: online shops are appearing in the physical space and they stun customers with high-tech solutions. In 2016 Amazon built a brick and mortar store in Seattle. Amazon Go is special because it is enough to walk in, take a product off the shelf and walk out. All customers have to do in advance is to download a smartphone app and give their debit card details. So far only Amazon staff could use the shop for buying baked goods, sandwiches and drinks, but it will open to the public in 2017. Experts say FMCG spending in the virtual world will increase. In 2017 only 2 percent of total FMCG spending will be realised on the internet – this sum represents USD 24 billion value in the USA. Retailers such as Wal-Mart and Kroger are making great efforts to popularise their click&collect solution: buying online and getting the goods in a physical store.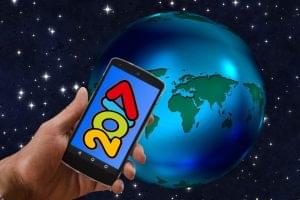 The use of automation and IT technologies is spreading rapidly in the field of FMCG retail, because these can give companies a competitive advantage. Gábor Fauszt, managing director of IDC told about the Hungarian situation that the No.1 choice is augmented everything – it is very popular in retail trade, manufacturing, design and the chemical industry. The second most important technology of 2017 is next generation security solutions. As the networks formed by the internet of things (IoT) are now becoming immense, unprotected tools were attacked and paralysed half the internet in 2016. Bad news is that even more serious threats are likely to occur in 2017. Behaviour based safety tools can be a temporary solution, which not only alert when an incident occurs, but can also forecast such security breaches.
Data analytics remains important in Hungary. One of the sectors that benefits from such methods is retail trade, for instance there are solutions which can monitor the movement of shoppers in-store and make targeted offers. IoT solutions are getting more and more popular in agriculture, for instance low energy use sensors are placed on agricultural land to provide data on soil and crop quality, etc. Voice controlled smart tools are turning up in homes and offices.
In a study Forrester collected those technologies which can play an important role between 2017 and 2020. They put them in three categories: 1.customer-centred activities, 2. competitive advantage, 3. supporting technologies. IoT software solutions belong to the first category: in the case of objects equipped with sensors companies don't have control over the customer experience. Customers only contact companies when there is a problem, therefore the companies check their products to a limited extent. Software integrated into IoT devices are the solution. Second on the list in this category are Siri, Alexa, Cortana, etc. type intelligent agents.
In the competitive advantage category artificial intelligence is the most popular. There is no point in collecting large quantities of data about companies if the tools for processing them are missing. Artificial intelligence technologies can be used to process unstructured data – this field is dominated by giants such as Google and Facebook. In the supporting technologies category the most important is security technology, which – according to Forrester – should be automatic and adapted to the company's business processes. Gartner forecasts the rapid spreading of the intelligent digital network for 2017. Such networks focus on the endpoints consisting of humans and IoT devices, monitoring the information and services they use. Garner is of the opinion that the digital and the physical world will get closer to each other, by this supporting the so-called digital business initiatives.
Gartner believes that for FMCG enterprises the spreading of intelligent tools is the most exciting technology that needs to be monitored constantly. What belong here? Robots, drones and self-driving cars. The controlled use of self-driving cars is already frequent in agriculture, mining and warehousing. In drone and robot use many legal and ethical issues still need to be clarified. All in all, these three tool types can all be used in retail trade in the future. With the appearance of professional hardware that can bring virtual reality closer to us, virtual content is also getting closer to users. However, we are still waiting for breakthrough ideas in industrial use. Augmented reality is already used in many fields, for instance in DHL warehouses it resulted in a 25-percent increase in efficiency. According to Gartner data, 11 percent of companies already use augmented reality solutions and 13 percent run pilot programmes.