Magazine: Health-consciousness is spreading in the fruit juice market
In the summer period demand increases for juices with low fruit content, while in winter the products with higher fruit content are popular. According to Gábor Ivády, commercial excellence leader of Coca-Cola HBC Magyarország Kft., many market players were forced to increase prices in 2017, because fruits became more expensive in the world market.
Balázs Bogár, trade marketing manager of Sió-Eckes Kft. told our magazine that more shoppers are willing to pay the higher prices for better quality juices than before. Anett Polyák, trade marketing manager of Rauch Hungária Kft. believes that the key to sales growth is continuous product innovation. This is the reason why the company has put Rauch Fresh products on the market – these are directly pressed juices that need cooling. We learned from Mihály Kozma, sales director of Garden Juice Kft. that their specially trained sales managers were able to affect product sales the most in 2017, who also give instant feedback to the management on
the latest consumer needs.
According to Kitti Kovács, sales manager of Szikrai Borászati Kft. (the distributor of Szobi products), peach, apple and orange are still the most popular fruit juice flavours. Demand is on the rise for 100-percent fruit and vegetable juices, but it is still 12-percent fruit juices that sell the best. Cheaper products are usually marketed in 1.5-2 litre PET bottles, while more expensive juices with higher fruit content come in smaller sizes and in glass bottles. Carton boxes are still popular in the 0.2-litre and 1-litre segments alike. Zsóka Balogh, marketing manager of In-Food 2000 Kft. informed us that consumers like the Pfanner multivitamin and pineapple juices very much. The Pfanner brand is traditionally strong in the 2-litre segment. In 2017 Pfanner introduced the Pure 1-litre tea products: boiled tea that contains no sugar or sweetener, which can also be consumed by shoppers on a vegan diet.
Anna Cholnoky, brand manager of Maspex Olympos Kft. told our magazine that their Topjoy brand has become one of the top fruit juice brands in recent years. From the Topjoy products sold in small glass bottles shoppers prefer special flavours such as cactus, mango, watermelon or sour cherry-apple. This year the company will launch the lemon-mint and raspberry-mint flavour combinations in this segment. Vilmos Várkonyi, Maspex Olympos Kft.'s group brand manager added that the Kubu children's drink brand managed to increase sales in both the 100-percent fruit juice and in the fruit drink categories in 2017. Péter Hajdú, the managing director of Rivan-Nova Kft.told our magazine that their Dr. Steinberger drinks have great traditions, and the special flavours such as aronia or combinations (antioxidants) are increasingly popular. These products are marketed in the top premium category, where buyers are conscious and sophisticated.
Where do we buy fruit juice? Modern channels of retail dominate in sales, especially discount supermarkets. Half of fruit juice sales is realised in the hypermarket and discounter channels. As for private label products, both their share in total sales and their value sales increased in 2017. The pushing forward of private label products was especially strong in the segment of juices with high fruit content. Another interesting trend is that shoppers don't just decide based on product look and price which fruit juice to buy any more: product ingredients, place of origin and where it was made have also become important factors by now. This is why private label products are also putting lots of work into coming out with quality products.
In the March-April campaign for hohes C products Sió-Eckes Kft. focuses on communicating what is new, but caring and health will also form part of the message. A new product has been added to both the 1-litre and 0.25-litre portfolios, with the hohes C PLUS+ vitamin D product. In February several exciting new SIÓ fruit drinks appear on store shelves. The very popular SIÓ Light product line keeps expanding: in addition to the apple and peach flavours, a sour cherry-plum-apple combination is also launched. Last year Coca-Cola Magyarország put their most popular, 100-percent fruit content 1-litre Cappy product on the market in a duo-pack format. The company keeps innovating in the fruit juice category too. Coca-Cola's objective is to be present in every segment of the category. Both ATL and BTL marketing tools support the Cappy brand, concentrating on brand building.
Rauch Hungária Kft. will be active in the domain of in-store marketing this year. With their Happy Day brand the company is going to implement many channel-specific campaigns. The image of the brand offers superb opportunities for spectacular secondary placements in shops. Garden Juice Kft.'s promotional directions are shaped by shopper needs, with the focus being on a healthy lifestyle. Since the products are special, their values need to be communicated with special efficiency, so that they don't disappear in the crowd of mass products. Social media and trade show presence dominate in the company's communication.
Maspex Olympos Kft.'s small-sized Topjoy products are special because there is a message to consumers in every bottle cap. It is noteworthy that Topjoy has Hungary's strongest brand-related Instagram page. In early 2017 they launched the 1.75-litre, PET-bottle Topjoy fruit drink line. As for the 100-percent Kubu fruit purées, they are backed with a television campaign at the beginning of the year. Szikrai Borászati Kft.'s view is that increasingly health-conscious shoppers are best targeted with launching new flavours in the company's Golden Valley range. With the Szobi brand, communication stresses quality and traditions. In the 2018 campaign they would like to reach many young consumers, so a stronger social media presence is likely from the company than before.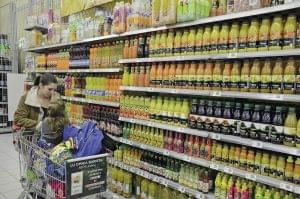 Pfanner fruit juices got a brand new packaging in 2017, which stands alone in the Hungarian market. Communication-wise In-Food 2000 Kft.'s experts don't separate the different categories in the fruit juice segment, but the flavoured tea product Pure is managed separately because of its special characteristics. Most of the time the company uses POS tools and BTL solutions in marketing, but an online presence also started last year. Rivan-Nova Kft.'s Dr. Steinberger products were selling 5-6 percent worse in 2017 than in 2016. The German manufacturer's innovation direction remains to be rare, special fruits and vegetables. Their 5-day cure programme is very popular, so they don't plan to change it in any way. In the near future the company will organise a nationwide prize game. //
Related news
Fruit juice: still a growing market
Fruit juice value sales expanded by more than 10 percent between December 2016 and November 2017. Sales represented a value above HUF 57 billion. As for volume sales, they improved by 7 percent. The market share of private label products increased (in value): at the moment they have almost 29 percent of the market. //