Magazine: Year of the Rooster
The year of the rooster started at the end of January, with the beginning of the Chinese New Year. This is the year when those will be successful who work hard and use their skills well. The economy will grow slowly but steadily – if this is true, it is very good news for the Hungarian hospitality sector, which is suffering from many problems. Globalisation affects the sector more and more, so it is useful to know what is happening in the world as international trends will enter Hungary sooner or later. In this article we have collected information on international trends mainly from foreign sources. Our forecasts are based on the opinions, studies and surveys of culinary organisations, trade associations, culinary writers and chefs.
Nowadays people aren't only paying attention to what they are eating at home, but also to what they order in a restaurant. Functional foods are becoming more important in gastronomy as well. Farmers, bakers, butchers and the like who are producing in the vicinity of restaurants are more and more important. Restaurant owners and local suppliers join forces, so that food made from fresh, quality ingredients is served to guests. What is more, restaurants and hotels often have their own gardens for growing food.
Sustainability isn't a simple buzzword in certain parts of the world but a necessity as well. Ethical and fair trade food are more important in the world restaurants too. In order to reduce food waste, dedicated chefs are looking for ways to create menus that make more economical ingredient use possible. In an interview after the Bocuse d'Or world final, Tamás Széll told that top restaurants focus on the following trends: organic, sustainable and environmentally conscious. In the next 5-10 years cooking will go in the direction of simplicity, professionalism, transparency and vegetable-based cuisine.
Yes, vegetables are definitely conquering the kitchens of restaurants. For instance in the comfort food category cheese noodles, pies and the like are very often replaced with spiral cut vegetables and vegetable purées. Sea vegetables are increasingly popular, for instance seaweed appears on menus rather frequently. It is needless to say that the world of meats is going forward as well, for example there are new meat cuts and new parts of animals are used for culinary purposes. One of the latest trends is the use of old animals as cooking ingredient, because their meat is more characteristic and terroir-specific.
It is now official: after the fifth taste, umami, there is a sixth taste called oleogustus (which means taste for fat). Fat gives creaminess, viscosity and volume to food, but the fat taste itself is created by the oxidation of fat. 2017 will be the year of spices and herbs. There is also increased demand for savoury taste and fermenting is also trendy nowadays. Polenta and cornmeal mush will soon conquer the world of top gastronomy overseas too.
What about the world of drinks? The main innovation direction is special taste and healthiness. Flavoured mineral waters are spreading at breakneck speed, so much so that they replace carbonated soft drinks in certain areas. There are more and more alcohol-free cocktails and very often these are made with some kind of 'hot' ingredient such as chilli or ginger, the taste of which is offset by honey or various syrups. Thanks to the rapid pace of life, edible drinks are spreading fast: smoothies and shakes can quench thirst and satisfy hunger at the same time.
Coffee- and tea-based products are made from ingredients that are processed in a way that they preserve their natural flavours and aromas. Cold brews and nitro coffee are popular in cafés, and lattes or coffee cocktails are also available from the tap. Restaurants invent coffee-dessert pairings. Iced teas are popular as well and they are also used more frequently as a cocktail ingredient. Local varieties are important in wine consumption too. Wine on tap is now an everyday phenomenon in bars and restaurants. Rosé continues its conquest and it isn't considered a summer drink any more.
68314.pngBusiness is business
Tasting menus remains trendy, what is more, they will have a more important role on the menus of top restaurants than before. The so-called fourth meal – eaten at night – becomes a competitive category. Home delivery becomes big business, even top restaurants will do it. More and more restaurants offer packs of ingredients for home cooking. The popularity of bowl food grows. Desserts are served in a fashion that photos of it are likely to be posted in social media. Food halls develop into a flourishing category.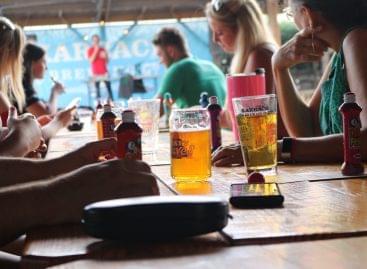 In Serbia, the interiors of restaurants could be opened from…
Read more >