Fewer tenders at a higher level
Trade magazin asked the chair and members of the jury about the applications received and the values the award represents:
Antal Szabó, managing director of Poli-Farbe Vegyipari Kft.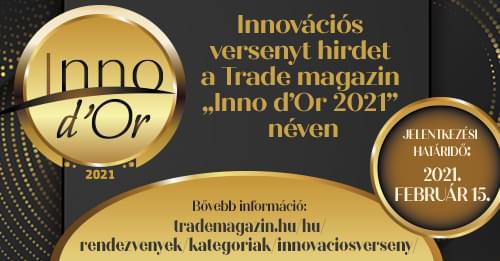 saw a rise in the general niveau of the applications that also showed a more consistent picture than ever. The usage of the trademark is not only important towards customers, but also reinforces the applicants' business and social relations and highlights great accomplishments – quality and value. Every year since 2006, Poli-Farbe entered a different product or innovation for the competition and the constant presence enhanced the company's reputation and prestige among consumers and business associations. The awards won ever since prove that innovative thinking can be a sound investment in the long run. //
Ágnes Bálint, managing director of ProfessionCert Kft., jury chair
told that even amidst the pandemic, this year has been a success for the Grand Prix. In her view, the applications are getting better and more complex every year. She especially appreciates innovations entered for the competition that have already earned positive feedback on the market and can present a third-party certification. //
Krisztina Hajnal Raucsik, managing director of Hajnal Húskombinát Kft.
thinks that this year's activities were largely affected by the COVID-19. As a result, fewer but higher-level applications were submitted. The trademark on the products makes customers perceive safety and quality. //
László Károlyi, CEO of Legrand Magyarország Villamossági Rendszerek Zrt.
reckons that the pandemic and its economic effects also influenced the participants of this year's Grand Prix: the number of entries fell and only Hungarian companies could enter. He believes that every situation can and has to be solved and a change simultaneously implies risks and opportunities, which is reflected also in the history of Legrand ­Magy­arország Zrt. //
Value and Quality Award winners
Based on the decision of the competition board, the best applicants were granted the right to use the Value and Quality Award trademark. This honour is certified by the Hungarian and English language diploma, designed by graphic artists Károly Balázs and Gábor Sárkány. //
AGM Beton Zrt. – Large-size, innovative square-shaped shaft made by well-sinking
ALFÖLDI-HÚS Zrt. – Alföldi Mangalica product range
Andrea Kft. – Multi-size baby and children's clothes for a sustainable environment
Aqua-Plastech Kereskedelmi és Szolgáltató Kft. – Home-use mofetta (CO2 Doctor)
Balázs-Diák Kft. – Trianon 100 digital education material
BEF-HUMAN Consulting Kft. – MÓZSI Eggplant cream product range
CO-OP Hungary Zrt. – "Coop Good quality at a good price" instant Bolognese sauce
CO-OP Hungary Zrt. – "Coop Good for me" Dark chocolate coated dessert bar
CO-OP Hungary Zrt. – "Coop Good quality at a good price" Paprika salami and winter salami
Deka Union Kft. / Szalai Ferenc e.v. Mátrai Bivalyrezervátum – Buffalo meat product range
DENT-ART-TECHNIK Kft. – Dental Aerosol Exhaustor Exhaust Unit
Délalföldi Kertészek Zöldség-Gyümölcs Termelői és Értékesítő Mezőgazdasági Szövetkezete (DÉLKERTÉSZ) – Snack tomato varieties product range
Emerson Automation Fluid Control & Pneumatics Hungary Kft. – 3/2 pneumatic valve, 565 series
ExVÁ Robbanásbiztos Berendezések Vizsgáló Állomása Kft. – High-performance and high-precision digital gas mixer; High-precision digital gas mixer
ExVÁ Robbanásbiztos Berendezések Vizsgáló Állomása Kft. – Electrical ignition control equipment for electrical ignition free circuits – Ex i – MSZ EN 60079-11/IEC 60079-11
Fenstherm Future Zrt. – Fenstherm Future (Profine 76 AD) product range
Gallicoop Pulykafeldolgozó Zrt. – Nagyi liver paté
Grabowski Kiadó Kft. – Future Store Innovations – The Store of the Future
Győri Likőrgyár Zrt./GM – Pannonhalmi Pálinkárium Liqueur Product Range
GYULAHÚS Kft. – Gyulai Additive-free Sausage
HAJDÚHÚS 2000 Kereskedelmi és Szolgáltató Kft. – CÍVIS original Debreceni Pair Sausage product range
HERBADOCTOR Kereskedelmi és Szolgáltató Kft. – Magnesium product range
Honey Hill Kereskedelmi és Szolgáltató Kft. – Nap Királynője skin rejuvenating face cream (50ml)
Jó Hentes Élelmiszerértékesítő Kft. / Deka Union Kft. – Gourmet Premium Chicken Breast Ham product range
Jó Hentes Élelmiszerértékesítő Kft. / Lidl Magyarország Bt. – Gourmet Hamburger patty / Grill & Fun beef hamburger patty
Lidl Magyarország Kereskedelmi Bt. – Bock Villányi Cultus Cuvée dry red wine
Lidl Magyarország Kereskedelmi Bt.  – Hazánk Kincsei quick-frozen lángos dough
Lidl Magyarország Kereskedelmi Bt. – Hazánk Kincsei Szatmári Plum Jam
Natics Laboratoires Kft. – NATICS C20 C-PEPTIDE vitamin C serum
Natural Immune Control System Zrt. – Medium-term Product dietary supplement product range
Normafa-Panoráma Bt. – Etalon Party Service
Panyolai Szilvórium Zrt. – Panyolai Misztikum product range
Saint-Gobain Hungary Kft. – weberNEON product range
SOLE-MiZo Zrt. – MIZO cheese product range
SOLE-MiZo Zrt. – MIZO milk product range
Szarvasi Agrár ZRt. – Cervinus hard cheese product range
Szatmári Konzervgyár Kft. – REGE Fruit Canned Fruits product range
Terék József Tárogató Hungarikum Koncert – Tárogató Hungarikum Concert
YAMUNA Kft. – PRESTIGE by Yamuna product range for dry, mature skin
Related news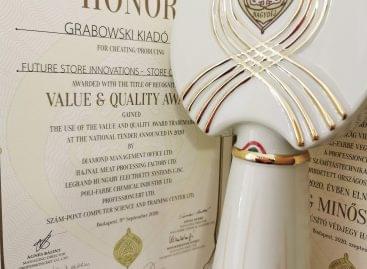 In 2020, the Value and Quality Grand Prix Competition was…
Read more >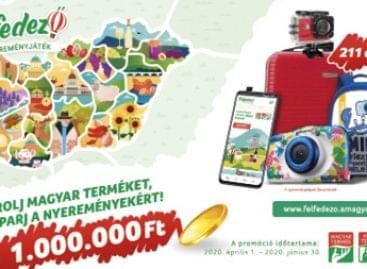 There were 127 Hungarian Product trademark user products from 6…
Read more >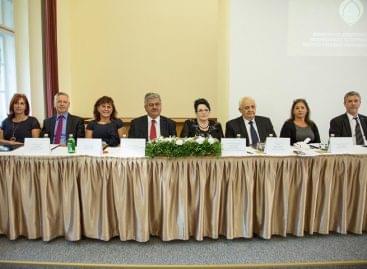 The awards of the Value and Quality Grand Prix Competition…
Read more >