Magazine: I like the system!
According to Wolfgang Wallisch, member of the board of directors at BENU Magyarország, the franchise system is already widely used in Hungary. Typically the franchise system targets small businesses, but the attitudes of these entrepreneurs aren't always suited for adopting a fully regulated system. Károly Nagy, network director of SMART Real Estate is of the opinion that those who join the system can profit from a ready-made know-how. The franchise model involves smaller risk than starting one's own business. What is more, with relatively small investment an entrepreneur gets knowledge, IT background, training and career opportunities which are of great help in their daily work.
According to Attila Bánhidi, CCMO director of Fornetti Kft., the support offered by a franchise system doesn't end with preparation work and launching the enterprise, it also involves providing the services which are necessary for continuous operation. For a franchise network the biggest challenge is coming up with solutions that can be applied at system level, together with creating and maintaining a uniform market presence. Kálmán Tóth, programme director of Patika Management Kft. believes that a typical problem of the Hungarian franchise world is that the franchise business model isn't well-known. Mr Tóth thinks that by joining a franchise network enterprises are
given a business opportunity that they wouldn't get operating on their own. Vivien Varga, owner of the baby swimming franchise system Stilianos Babauszoda is of the opinion that the franchise system is still a bit strange for Hungarian entrepreneurs, they don't really trust it
Dr. Vida Zsuzsanna, managing director of Diego told our magazine that stable financial conditions are very important when recruiting new partners. When building a network, it is key that there should be a certain geographical distance between two Diego stores. Mr Bánhidi added that one can only sell where there are customers: when choosing a new shop, not only the shop interior has to meet Fornetti requirements but also the location needs to be a busy one.
Mr Wallisch informed us that their franchise programme targets already existing pharmacies. For building the network they need pharmacies that know the market well and have the potential to represent the franchise brand. This means that BENU would like reshape the image of already operating pharmacies in accordance with the franchise standards. Ms Varga revealed to us that the main aspect when selecting Stilianos franchise partners is that the franchisees shouldn't just consider the enterprise to be an investment: it is best if they want to be part of system because they share the same values. Mr Tóth explained to Trade magazin that in selecting partners not only business considerations matter, but also the human factor. What is more, the proactive nature and cooperation willingness of franchisees are even more important than business factors. //
Related news
Vitamin can make a franchise healthy!
Józset Rácz, the owner of the Vitamin Salon franchise talked to our magazine about how partners can join the system. Applicants need to fill out a questionnaire, based on which we invite them to an interview. Once we have signed the cooperation agreement, we start the know-how transfer: the franchisee and their workers come to our reference shop in Szeged to learn everything they need to know in a real-life environment. //
________________________________________
Healthy and trendy
Anjuna Ice Pops confectioneries use only natural ingredients to make vegan ice pops. The owners have decided to start a franchise system and plan to open at least 10 new shops in the next 2 years. They offer two solutions to partners: a full confectionery or a shop-in-shop format. //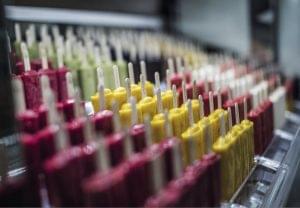 ________________________________
Knowledge transfer
Attila Bánhidi, Fornetti: The package that we give to partners offers them full commercial, technological and technical assistance.
Dr. Vida Zsuzsanna, Diego: The start is preceded by a training programme for partners, and the franchise manual contains the complete know-how.
Károly Nagy, SMART: We have a so-called Basic Manual, which collects all the important information about operating as part of our network.
Kálmán Tóth, Patika Management: Alma pharmacies transfer know-how using more channels. There is a manual for daily operation.
Vivien Varga, Stilianos: Only contracted partners receive the full material that is contained in the manuals. We organise a training programme for franchisees.
Wolfgang Wallisch, BENU: We invite franchisees to a training and they also participate in a several month long integration process. //