A complex industry with many players
The supply chain plays a decisive role in the value chain: transporting ingredients, finished and semi-finished products in a fast, efficient and safe way constitutes great competitive advantage. Logistics has become a complex 'science' with many factors, where market players have to be experts in several fields, from humidity content to safety issues to environmental cooling solutions.
According to Zsófia Márton, quality control manager with Liegl & Dachser Kft.'s FOOD Logistics division, it is key to offer a wide range of services, including value-added ones. Zsolt Csiszár, commercial director of FM Logistic Hungary Kft. opines that regional presence and the ever more important role of fresh products and retail also have strategic roles. László Poór, head of health and safety and fire protection at Raben Trans European Hungary Kft. told Trade magazin that the expertise of colleagues and how they share their knowledge with partners are also priorities. József Varga, managing director of K&V Logistic Solutions Kft. added that their 100-percent Hungarian-owned company also offers vehicle repair and inspection services. Lajos Szabó, owner-managing director of iData Kft. told our magazine that goods protection and cooling technology are increasingly specialised domains and the company is an expert in these fields (GPS, tracking, monitoring, etc.). DSH Hungária Kft. business development director Tibor Polonyi's experience is that software, systems and online services are gaining ground in the supply chain as well – they offer a wide range of top-quality IP cameras for these. Liegl & Dachser's food division established a food protection working group to analyse and minimise risks. The IFS Logistic system they operate guarantees that quality conditions required by partners are met all the time. FM Logistic Kft. also ensures the constant safety of partners' goods and regularly takes stock in order to reveal shortcomings. When delivering goods the main focus is on the human factor, so that only as many products leave the warehouse as the customer ordered. K&V keeps investing in the safest equipment, vehicles and machinery. Moving goods – from storage to loading to delivering – must be done with the greatest care possible. This is the reason why all K&V drivers and warehouse workers undergo training to learn how to make sure products are safe from harm of theft. The company fleet is equipped with a GPS tracking system, which not only indicates trucks' locations but also the state of good in the trucks: Track&Tracing gives real time information on their products to partners any time. iData developed its own GPS tracking system that is already used in 18,000 vehicles. In addition to this, the company also has goods protection and cooling technology solutions which are absolutely necessary to use in the supply chain. They assure such high level quality assurance that may constitute a competitive advantage when suppliers are chosen. DSH Hungária's AVIGILON VMS software solutions give the opportunity to connect logistics data with images, facilitating the rapid and professional finding of information/images by which time and costs can be saved. The company designs the systems and their engineers give assistance in installing them. Their consultancy and maintenance services are also available to partners. Liegl & Dachser is member of the European Food Network: across the whole network transportation at +2°C – +7°C temperature is possible under central supervision. The company's cold storage service is computer-controlled, managers instantly receive alerts via e-mails or text messages if the temperature falls below the ideal level. FM Logistic constantly monitors and controls the temperature and humidity level of warehouses. When transporting goods the temperature of trucks is also monitored. Their latest development is the online temperature checking system: it makes it possible to check the temperature in trucks any time while the goods are being transported. K&V's Track&Tracing system offers the real time temperature monitoring of trucks for partners. If the pre-set temperature changes, the system automatically sends e-mails and SMS messages to the given addresses and phone numbers. By using iData's system the temperature or the humidity level can be controlled throughout the whole cooling chain; events can also be followed on a map. More thermometers can be used when several types of goods are transported in the same truck – all of them are controlled via an on-board unit. The iTrack systems sends a warning if the temperature is inadequate.
Budapest Airport has made 167 million euros worth of investments…
Read more >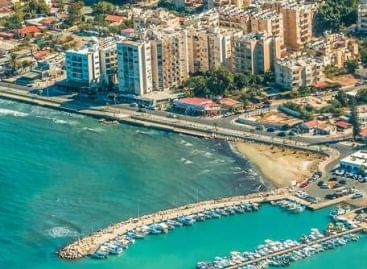 As a serious economic consequence of the coronavirus pandemic, the…
Read more >